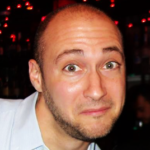 We have a new website!
We've been super busy over the last few years. So busy we didn't have enough me time to build our own website. Plus we were wrestling with the design for a bit. Apparently building your own site is way harder than building someone else's.
Originally we wanted the website to use powerful symbols to get the idea of our design firm across. Instead of showcasing our own work, we were thinking about basing the site design around a bear giving birth to a unicorn. We decided against that and instead went the direction of showcasing our own work.
Take a peek around and let us know what you think. Better yet, hire us for your next project!